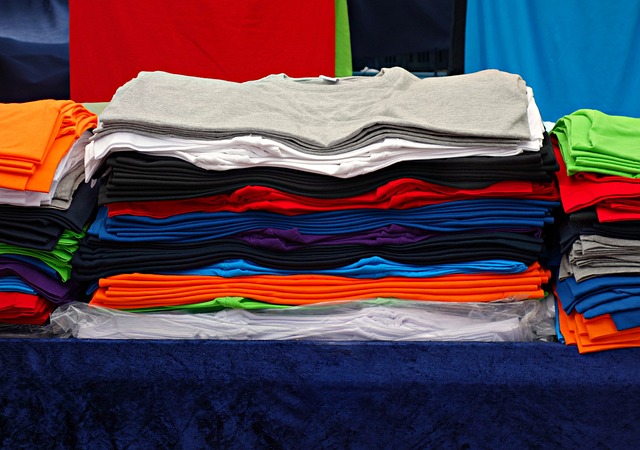 1: The Custom T-Shirts Industry Is Growing And Trending
The demand for T-shirts with logos or slogans from games, TV series, movies, and songs has increased over recent years. People are buying such wear, but T-shirts are also a big hit among many companies that use them in their marketing campaigns. They use them to promote their business brand by using logos and slogans that grab people's attention, increasing their brand visibility.
Custom T-shirts can be an influential element in developing and promoting social awareness. They can be used to voice something or support a cause; hence, they have a positive influence when growing marketing campaigns. As a side point, I would highly recommend that you take a look at designs and signs.
Grand View Research shows that the global custom T-shirt printing industry was worth $3.64 billion in 2020 and projects that it has a potential growth rate of around 9.7% over the next eight years.
The IBISWorld report showed that the online original design T-shirt industry's sales in the United States would exceed $516.4 million in 2021. However, the number of online retailers did not meet the high demand, and this presented a business opportunity for new entrants. So, now is the best time to join the custom T-shirt market and start making money.
2: Accelerated Sales Due To The COVID-19 Pandemic
The coronavirus pandemic hit all business sectors, from hospitality and finance to fashion. Money was hard to come by, and people had to readjust their spending. More than 65% of consumers in the U.S. and European markets expected a decrease in apparel purchases, according to a report by McKinsey.
However, the COVID-19 situation did influence the growth of the online clothing segment. A survey by Adobe Analytics states that custom T-shirt sales leaped by nearly 47% in April 2020. Furthermore, data from SinaLite Marketing shows that T-shirt sales in North America jumped four times after the pandemic hit, registering a 330% increase compared to before the pandemic. The data also shows a 16% increase in wholesale customers ordering printed apparel.
What Triggered The Changes?
• A likely reason is that people wore comfy stay-at-home wear, and brands sought to capitalize on the trend. T-shirts are a top choice for many; thus, they become a prominent consideration for many online shoppers.
• T-shirts are a cost-effective product; thus, they are affordable and ideal for fashion brands to make and sell. A brand can spend roughly $7 to produce a T-shirt and sell it for $40–$50.
• The call to support each other was loud among many small businesses during the pandemic, and they promoted branded T-shirts for customers to buy. For instance, DS Projects' founder, Dylan Hattem, started a relief initiative dubbed 'This T-Shirt', run on Instagram, selling custom T-shirts. The initiative's goal was to raise $20,000 to support struggling charities and small businesses, but they managed to raise more than $200,000 in a short period.
3: A Great Way To Make Extra Money
Research by Reuter shows that the United States economy closed 2020 with 9.4 million fewer jobs and more than 3.37 million permanent job losses. It is a situation that has left many Americans unable to pay their bills or rely on their savings to meet their expenses. The lucky few with family and friends who can spare some cash would have something, and others would turn to soup kitchens and food pantries for sustenance.
The more you take an analytical assessment of the coronavirus pandemic, the more you discover how having multiple income sources was an invaluable resource. The situation is still bleak for many, but the door of opportunity is still open. You have a chance to diversify your income by starting a custom T-shirt printing business.
People, irrespective of their gender, age, belief, or occupation, own T-shirts. If nearly everyone in the world has at least one T-shirt, think of how expansive this apparel market is, and how you can make money within a short time. If the message you print on the T-shirts reverberates with people, then you have a higher chance of selling your product.