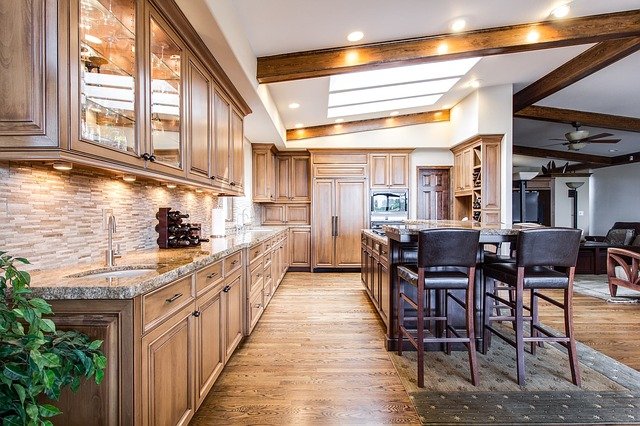 Kitchens are no longer a space behind closed doors to work only as a room for cooking. Nowadays, these spaces are the heart of a home, central to everyday living, entertainment and special occasions.
When it comes to designing a kitchen, style is a primary factor. You spend a substantial amount of time in this room, so, you cannot overlook its functionality and aesthetics. When remodelling or renovating your kitchen, you may find yourself spending ages trying to pick a style that matches your tastes and needs. There are numerous styles out there and to help you pick the right one, we have created a guide that you will find both informative and interesting.
The Different Types of Kitchen Styles
Traditional
When you come across the term 'traditional' your mind probably thinks of baking with the kids or gathering around the table with the loved ones for a special occasion, and you wouldn't be wrong. Those are, after all, traditions. In regards to style, however, the term 'traditional' means a timeless look. Picture white tiles, stained or painted cabinets with glass doors, decorative moldings, arches, and corbels combined with industrial elements like steel appliances and light fixtures with a vintage appearance.
Farmhouse/Country
A country-style kitchen's overall look and feel ranges from naturally rustic to a more modern or contemporary space. Regardless of the pick in the spectrum, a homey, warm, and welcoming feel are apparent. Farmhouse and country kitchens tend to balance comfort with functionality, usually featuring classic flooring, large sinks, open shelving, vintage door hands, a big kitchen table or island, and a pale colour scheme like yellow with blue or red hues. If you are looking for a new kitchen or bathroom, I would recommend having a look at what Stone & Chrome can offer.
Modern
The modern style definition varies quite a lot, but there are a few key features with these types of kitchens. We are talking about a sexy appeal and sleek complexity. A modern kitchen has a minimalist appearance that boasts frameless cabinets with unadorned doors, polished countertops, and sleek chrome hardware. These kitchens also feature top-of-the-line materials like stainless steel, exotic woods, etc.
Contemporary
Similar to the modern style, contemporary kitchens ideally pay attention to grid and structure to lend a sleek and flawless appearance. However, this is achieved with an array of finishes in a more playful style. With a contemporary kitchen, you have the freedom to play with new and old, mix different materials, go for polished or casual, and include other styles' elements to create a space that matches your personality.
Transitional
Transitional kitchens are simply a combination of traditional and contemporary styles. With a transitional kitchen, you get the best of both worlds, simple and clean minimalist elements from contemporary style and the warmth of traditional style. The blend of modern sophistication with familiarity is certainly a dream look for people who love the two styles.
Rustic
As the name implies, a rustic style takes the terms distressed, worn and rough and converts them into positives. Upon the first look at a rustic kitchen, you will notice the abundance of stone and wood. However, a closer look will reveal interesting elements that showcase craftsmanship like unfinished surfaces, distressed finishes, open shelving, polished oak floors, vintage appliances and textured pieces. A rustic style is ideal if you are looking for practicality and simplicity with the abundance of log cabin interiors that remind you of nature.